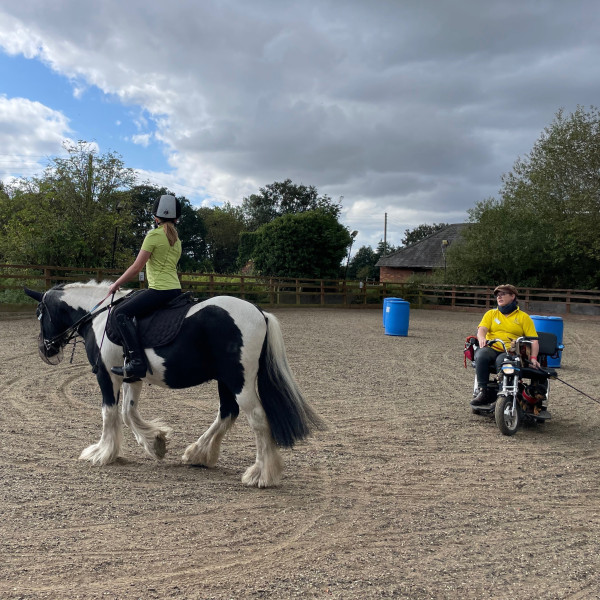 Plumtree School of Equitation & Carriage Driving
Plumtree School of Equitation and Carriage Driving
My name is Gemma Owens and I have been a qualified Instructor for over 30 years, producing and successfuly competing my own horses at affilliated showjumping, eventing, dressage and driving trials. My love and passion is dressage and I have produced horses from breaking, through to Medium Level. My second love is carriage driving and I have produced my ponies and horses, again from breaking up to National Advanced Pony Pairs, Open Horse classes. Recently I've competed a pony team, this is my new love. Driving a team takes lots of time, both to train the ponies and then to put together the ones that work happily together. Through the winter of 2017 we had a lovely team. However, during the summer months one pony suffered with hay fever and another pony suffers badly coming into season, neither could be driven. Therefore, back to the drawing board.
We started the riding school in 2004, our aim being to bridge the gap from learning to ride to horse ownership. All our horses are experienced schoolmasters and can teach from beginners to advanced clients. We pride ourselves in maintaining our horses education and schooling. This gives us a unique quality in that our staff train the horses that they teach with. At Plumtree our philosphy has been to have competition horses that work in the riding school, ensuring that our customers ride very well educated horses and ponies. We have taken that one stage further by breeding horses both for competing and to work in the riding school.
We love sharing our passion of horses and encouraging people to experience all aspects of the amazing relationships that horses allow us to develop with them.
Our mission statement being ' Take your passion and make it happen '.